Thursday, March 24th, 2005 | 10:09 am and filed in Reason, Combinator.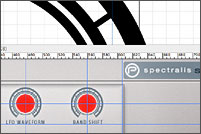 I've been messing around with some Combinator patch ideas lately. These have been more of a distraction from writing than anything else. I forgot how much I enjoyed skinning and messing around with interface ideas–it just like the good old days of ReBirth. I've posted a few of them up in a new Combinator section on my Reason page. Two are just examples of modulation styles, while another two are attempts at emulating the 303 using the P003 Square Bass Refill and the lapjockey Flatpack 1. I've got a couple more being prepped to go.
I've been experimenting with a little gui trick. Adding a color area behind the knob at just the right size will pass through the notch of the knob and appear as if the knob has a colored pointer.
Also check out the new ReFill which contains only two samples packed especially for the combinator patch included in the fill.